Home >> Marketing

Publicious Book Marketing/Publicity

Intro:
Every author believes that their newly published book is special and unique, and therefore deserves to be read. However, many authors are unsure exactly how to get their book to market.
A few authors manage to strike it lucky and some media interest is created organically, perhaps through the efforts of the publisher, or the author is already famous. However, the reality is that publishers only tend to invest time and money into marketing the books of authors who are already best-sellers. This means that most first-time authors are left to fend for themselves, and many have no idea where to begin!
This is where experienced Book Publicist, Kerry McDuling, can assist. She offers services to suit most budgets and requirements, each completely individualised to your book and the topic, as well as your ideal audience!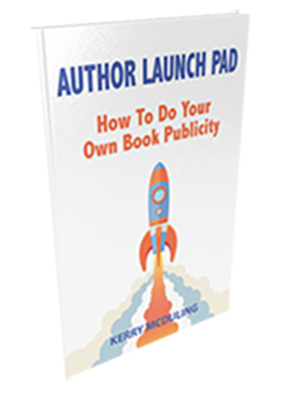 A great place to start with your book promotion is with Kerry's new book Author Launch Pad.
Publishing your own book and becoming an author is only part of the journey. If you want your book to be read, and possibly even become a bestseller, you need to promote it. Learn the book publicity tips from the professionals, and do it yourself. Many book authors have been incredibly successful with generating publicity for their book; proving that you don't need to spend money on a book publicity expert to do the same thing that you can probably do better.
| | |
| --- | --- |
| Print | ebook |
Both versions also available from most online bookstores worldwide
Book promotion services:

Professional Author Website
Arguably the first place to start with any marketing campaign is by having an internet presence via a professionally created website. For more details go here
Video Book Trailer
A book trailer is a great way of promoting your book worldwide via YouTube, social media, your website and blog. At Publicious we can design a unique and professional video for your book just like the ones below at a fixed and very affordable price. See samples here.
From $250.00 plus GST
Social Media Strategy
Let an expert book publicist assist you with your social media strategy. We will take your book's audience, the topic and your personal goals into account when creating a strategy for you. This will give you a firm sense of direction to help you use your preferred social media platforms (facebook, Twitter, Instagram) to generate a fan base of followers, and also to encourage engagement among them.
This includes a 20 minute Skype consultation (or communication via phone call, whatever you prefer) to present and explain the strategy to you, and answer any questions you may have.
$250.00 for a 3 month strategy plus GST
Social Media Strategy and Implementation
Let an expert book publicist take the reins of your social media presence, boosting your fan base and encouraging interaction on your platforms. She will take your book's audience, the topic and your personal goals into account when creating a strategy for you, and once you have approved it, Kerry will implement it on your behalf, using your log-ins. You can then take over after a month, or keep the arrangement going for a longer time frame. This will allow you to focus on your writing and other projects, confident in the knowledge that your fan base is being looked after and your book is selling!
$320.00 per month plus GST
Blog/article writing service
Let us take away the hassle of having to think about what to write each month and how to find the time to do it. Freshly written original blog posts/articles written about the topic of your choice including your targeted keywords and supplied ready for posting on your website, blog site, social media platforms etc.
$80.00 plus GST per article
Professionally written media release
Written media release announcing the launch of your book for distribution to your local media, relevant publications, and your social media sites etc. Includes interview with our publicist to determine the right media release for your book.
$250 plus GST
90 minute Introductory Skype Book Publicity Coaching
Together we will create a detailed and individualised strategy for your book publicity that you can go ahead and action yourself.
It is definitely possible for you to promote your own book, and if you prefer to organise your own publicity, or are on a budget, then this is something for you!
During the consult, I will provide easy-to-follow instructions on how to reach your target reader audience. Discover the tricks of the trade right now, and launch your book (and author status) into the stratosphere.
We will discuss ideas for media release angles, news tips and which media outlets would be a good target for you to approach. I will also provide direction and ideas for your social media strategy, and how to create a database that you can market to.
$200 plus GST
60 minute Follow up Skype Book Publicity Coaching
For all follow up Skype sessions, where we will take a look at your book publicity progress and work on strategies and ideas moving forward.
When taking on projects like your book publishing and publicity, having a coach to be accountable to really helps you to carry out each step toward media recognition. We are also able to trouble-shoot any challenges you may be experiencing.
$130 plus GST
Three month book publicity consultancy
This Rolls Royce of Book Publicity Packages includes an individualised publicity strategy and targeted media releases (at least one per month) to relevant national media outlets.
Any written editorial and articles (eg content for your website and social media accounts) is also included.
Depending on your book and your goals, we can assist with helping to organise cross-promotional business opportunities, strategic relationships with organisations who share a similar client base to yours, speaking opportunities, etc.
complimentary media monitoring valued at $300 per month as a valued add, so that all national media articles containing the author's name and book will be sent to Kerry on the day they are published.
$1000 plus GST per month for 3 months
Get a quote here